Bonsoir a tous,

je me posais la question à savoir le nom de l'interprete original de "Gabrielle"...je sais que le titre original est "The king is dead" mais je n'ai pas l'interprete!!!

J'espere que quelqun sur le forum pourra me répondre!

Merci d'avance.
à priori JOHNNY aurait été le premier à l'interpréter, plusieurs interprètres auraient refusé cette musique avant que JOHNNY ne s'y interesse.Son auteur Tony Cole n'enregistra sa version qu'aprés celle de JOHNNY






Messages

: 8678


Date d'inscription

: 04/02/2008


Age

: 68


Localisation

: wasquehal - nord



renseignements relevés dans le livre de Jean William THOURY "JOHNNY en chansons"






Messages

: 8678


Date d'inscription

: 04/02/2008


Age

: 68


Localisation

: wasquehal - nord



ahh d'accord...interessante réponse!!
Merci a toi dpcharles!
Connaissez-vous un site ou l'on peut écouter la version de Tony Cole??
Apparemment la chanson serait issue de cet album :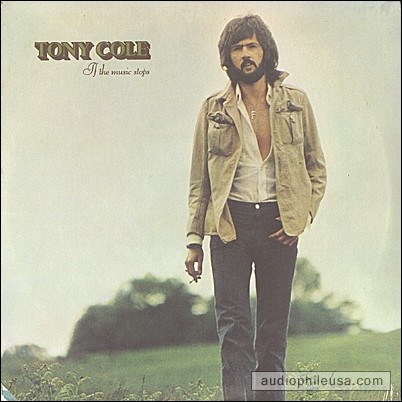 1972
Tony ColeIf the Music Stops
Track# · Title · time
1 · TheKing Is Dead · 3:05
2 · Ruby · 2:54
3 · TalkAbout Tomorrow · 2:28
4 · All IMeant to Do · 4:45
5 · Got toGet Through to You · 3:42
6 · Napolean and Josephine · 2:41
7 · Suite:Man and Woman · 8:20
8 · Nothing More Than You · 2:40
9 · Like aRock and Roll Band · 3:00
10 · Goodbye Gemini · 2:55
11 · If the Music Stops · 3:38
·
Credits of If the Music Stops
David MacKay
Vocals
Dave MacRae
Keyboards
Barry Morgan
Drums
Dave Perkin
BassRainer
Schuelein
Recorder
Mark Singer
Drums
Alan Tarney
Bass
Walter Smith
Trombone
Tony Cole
Guitar, Vocals
John Farrar
Guitar
Herbie Flowers
Bass
Kevin Peek
Guitar
Terry Britten
Guitar, Vocals
John Burden
Horn
Rick Busch
Horn
Toni Campo
Bass
Mike Clayton
?
Bob Efford
Recorder
Barrie Guard
Drums, Percussion
Skaila Kanga
Harmonica
Tim Kraemer
Cello
C'est étrange que l'on ne trouve rien à écouter sur le net...
Si quelqu'un veux se faire plaisir, c'est ici :
http://cgi.ebay.fr/TONY-COLE-IF-THE-MUSIC-STOPS-ORIGINAL-T403-CENTURY_W0QQitemZ260411207808QQcmdZViewItemQQptZFR_VC_Vinyle?hash=item3ca1b7b080
Et après il nous tient au courant





Je l'ai posté également ici :
http://johnnyhallydayleweb.forumpro.fr/forums-de-discussions-f1/nouvelle-rubrique-les-versions-originales-des-adaptations-de-johnny-t5882-25.htm
DPCharle,
Dans le livre de J-W Thoury, il dit que Tony Cole a sorti sa version
après celle de Johnny, mais apparemment l'album "If the music stops"
ou figure la chanson "The King is dead" est sorti en 1972 et Gabrielle en 1976, alors...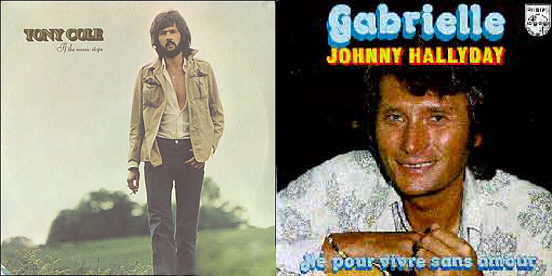 Le papa V.O. de "Gabrielle" qui a été également le papa V.O. de "L'amour violent" avec "Magnificently Mad"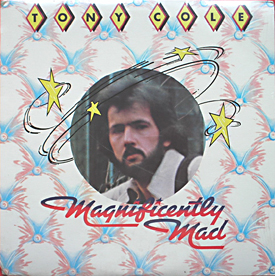 T 416 -
Magnificently Mad
-
Tony Cole
[1973] Scorpio/Life Goes On/Domino/Hang On
Magdalen/We/Magnificently Mad/The Hook/Mermaid/Everybody Wants To Be
Somebody Else/Long Live
Love/Another Crack At Glory
V.O - V.F.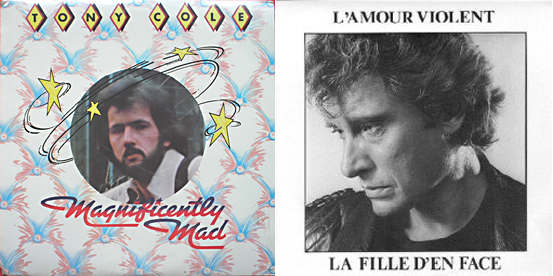 ---
Permission de ce forum:
Vous
ne pouvez pas
répondre aux sujets dans ce forum